THE WORLD WE'RE GIVING TO FUTURE GENERATIONS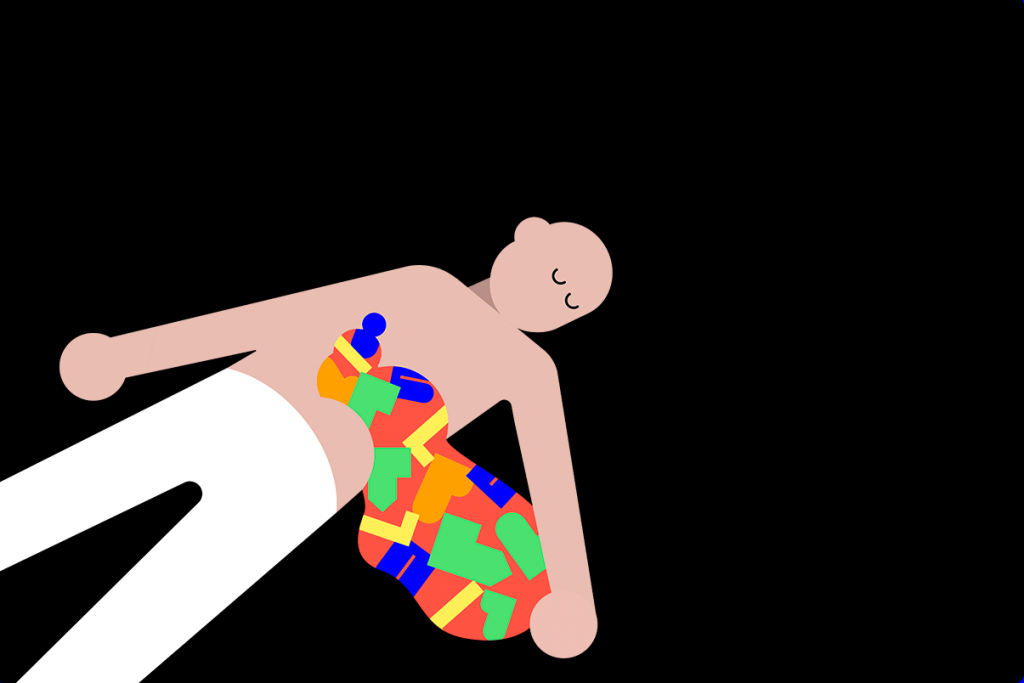 THE SCULPTURE SUBVERTS OUR EXPECTATIONS BY SHOWING A HUMAN AS THE ULTIMATE SUFFERER FROM THE PLASTIC WASTE THAT KILLS SO MANY MARINE ANIMALS.
Marianne Siri's installation features a male figure clad in a denim vest, shorts and sweat bands lying lifeless on sand. The artist explains that the choice of outfit refers to a specific rock band aesthetic.
The figure appears restful, but his side has a gaping wound with garish plastic rubbish spilling out of it. What kind of a plastic filled world must this man have lived in?
We are painfully familiar with imagery of sea animals that have died from ingesting plastic, but in Siri's artwork the tables have turned, and the victim is a human. Siri combines classical sculpture with references to pop culture. With this installation Siri was inspired by the album cover for The Anthropocene Extinction, a record by the metal band Cattle Decapitation.
PLASTIC WASTE FROM VESIJÄRVI
Originally Siri considered using plastic rubbish found in the sea for the sculpture.
– But then I started to think that maybe I can find plastic waste closer to home – Vesijärvi also suffers from plastic waste. What surprised me is that you have to learn how to spot plastic waste at a beach.
Siri met up with the activist Inkeri Pekkanen, who hosts the Roskapostia Hangosta (Eng. Junk Mail from Hanko) Facebook account, and learned that it is easiest to find plastic waste after a blustery day and from the nooks and crannies of breakwaters. In her installation Siri combines the waste with ceramic sculpture and plaster cast, creating a serene but haunting artwork.
MARIANNE SIRI'S INSTALLATION THE WORLD WE'RE GIVING TO FUTURE GENERATIONS CAN BE VIEWED AT SIBELIUS HALL FOR THE DURATION OF JUJUT 10.6.‒1.8.2021.