Ahto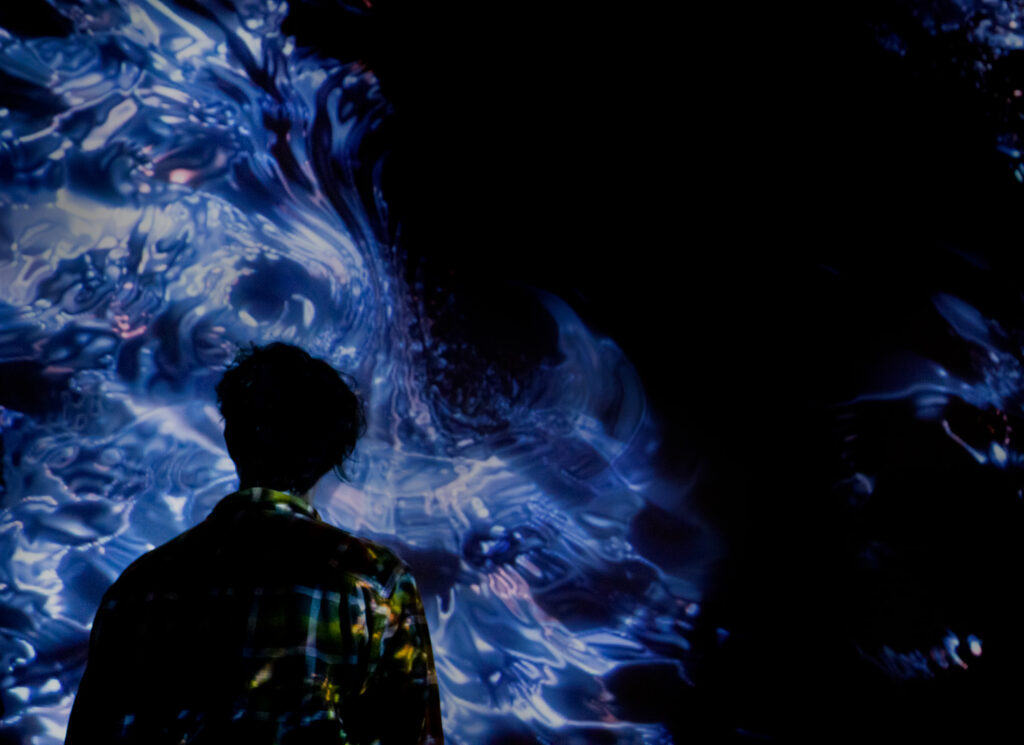 Interactive artwork by Finnish Ekho Collective is permanently on display in Malva.
Finnish Ekho Collective's artwork Ahto, which changes according to the flow of visitors, will be permanently on display in the Light Gallery of Lahti Museum of Visual Arts Malva. The work, which explores the different states of water, can be experienced at Malva from the opening day of the museum on 29 April 2022.
The impressive Ahto will be part of the museum experience of every visitor to Malva, as it is located in Malva's 15 metres high lobby, the Light Gallery, which leads to all of the exhibitions. The multisensory work is specifically designed to be experienced in the Light Gallery. The design of the work takes into account the way museum visitors move in the space: the work constantly lives its own life through movement and the world of sound, but it comes to life in a different way when a museum visitor stops and looks at it.
Ahto utilises motion detection technology and a simulation algorithm to produce an ever-changing image and sound. The work can be viewed both from the first floor and from the Light Balcony, which is located on the third floor of the museum.
Ahto explores the different states of water through visual material and the world of sound. It has borrowed its form language from water, but a video image of the actual liquid is not seen in the work. Gurgling, splashing, rushing, among other things, have been recorded for Ahto's world of sound. The work invites the public to take a quiet moment, as the world of images and sound changes when a visitor stops at the work.
The title of the work, Ahto, is a variation of the name Ahti, the water god of Finnish mythology. Ahto also refers to pack ice, an uneven ice sheet formed from an accumulation of ice blocks.
Ekho Collective, which consists of experts in art, design and technology, has been creating the work in collaboration with Malva since spring 2021. The collective as seven members, each of whom brings their own unique talent to the Malva work: Minja Axelsson, Essi Huotari, Saara-Henriikka Mäkinen, Joonas Nissinen, Ilmari Pesonen, Kalle Rasinkangas and Iina Taijonlahti.
Ahto is part of Malva's art collection and will be on display in Malva until further notice.